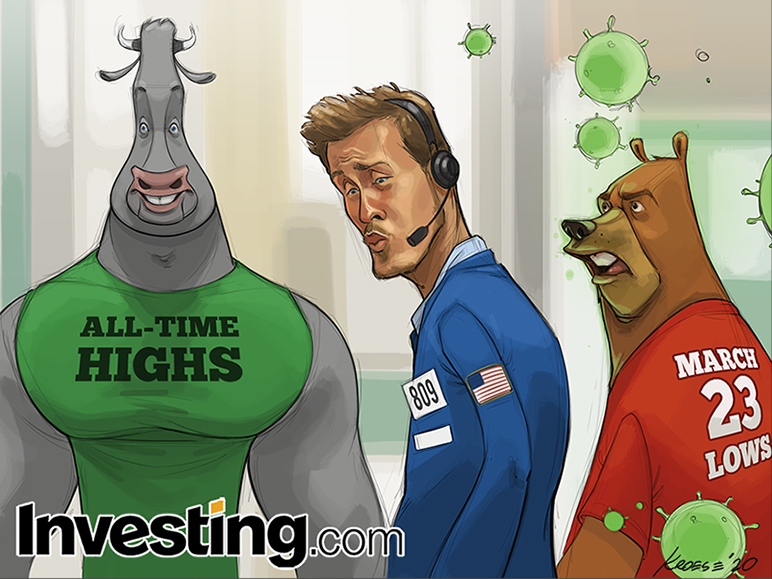 Portfolio Update – WEEK 22 (May 25th to May 31st)
Good morning,
Hello, how are you all?
Portfolio has 8 weeks in a row in profit! This week surged forward +1.01%, WONDROUS! The portfolio added an incredible +11.20% in May. For the year, the result is even better, +18.91% YTD. In conclusion, the strategy continues to work surpassing the three main Wall Street indices. My wife and I were confined at home for 80 days. Markets once again look past the terrible economic data and world events, remaining focused on the future. The Long Term Technical view reinforces a Bullish outlook now. Check it out the portfolio stats https://etoro.tw/2SPLA85 .
In case of any doubt, you can access the FAQ of my blog: https://santiago1000.it/en/#faq
(Seeking Alpha) Stocks stage a late rally Friday that lifted two of the three major indexes out of the red after Pres. Trump's China actions fell short of the harsh sanctions the market had feared. During his much-awaited news conference, Trump said he would take action to eliminate special treatment towards Hong Kong but did not indicate the U.S. would pull out of the phase one trade deal reached with China earlier this year. Earlier in the day, economic data showed virus-related shutdowns had caused the biggest monthly decline ever in U.S. consumer spending, while personal income soared and the national savings rate hit a record high. For the week, the Dow jumped +3.7% and the S&P surged +3%, while the Nasdaq added +1.7%.
Here is the detailed weekly income of the positions that make up the portfolio:
STOCKS
PAYC – Paycom Software, Inc. +10.35%
SEDG – SolarEdge Technologies, Inc. +8.83%
LULU – Lululemon Athletica Inc. +8.44% (upcoming earnings announce on 06-10-20)
ENPH – Enphase Energy, Inc. +3.14%
MA – Mastercard Incorporated +2.03%
GOOG – Alphabet Inc. +1.31%
TTD – The Trade Desk, Inc. +1.29%
AMZN – Amazon.com, Inc. +0.23%
MSFT – Microsoft Corporation -0.14%
AAPL – Apple Inc. -0.30%
NVDA – NVIDIA Corporation -1.67%
AMD – Advanced Micro Devices, Inc. -2.48%
FB – Facebook, Inc. -4.18%
SHOP – Shopify Inc. -8.16%
No portfolio changes this week.
Stocks/ETFs on my radar and that interest me: TSLA, NFLX, MELI, ZM, FTNT, PYPL and ADBE .
Things escalated quickly after Twitter (NYSE:TWTR) applied a fact-checking label to President Trump's tweet about the potential for fraud with mail-in ballots. An executive order was published that opened the door for federal officials to punish social media companies – for the way they moderate content – by allowing regulators to rethink Section 230 of the Communications Decency Act. The law largely exempts online platforms from legal liability for the material their users post, and such changes could expose tech companies to more lawsuits. The order also addressed political bias on the platforms and would review advertising spending on platforms including Twitter, Facebook (NASDAQ:FB), Google (GOOG, GOOGL) and Snap (NYSE:SNAP). The Trump vs. Twitter war continued to escalate during the week.
Beating out rivals like Netflix (NASDAQ:NFLX), Apple (NASDAQ:AAPL) secured a deal for Hollywood veteran Martin Scorsese's next film, Killers of the Flower Moon, which will feature Leonardo DiCaprio and Robert De Niro. The project will be Apple's biggest foray into film yet after acquiring Greyhound, starring Tom Hanks, last year. Killers of the Flower Moon will be labeled an Apple Original Film and Paramount Pictures (NASDAQ:VIAC) will distribute it theatrically worldwide. Scorsese's last film, The Irishman, was released on Netflix in 2019.
Weekly Market Movement Wrap
U.S. Indices
Dow +3.8% to 25,383. S&P 500 +3% to 3,044. Nasdaq +1.8% to 9,490. Russell 2000 +2.6% to 1,391. CBOE Volatility Index -2.3% to 27.51.
S&P 500 Sectors
Consumer Staples +2.9%. Utilities +4.9%. Financials +7.9%. Telecom -0.1%. Healthcare +2.1%. Industrials +6.7%. Information Technology +0.2%. Materials +4.6%. Energy +1.1%. Consumer Discretionary +1.3%.
"Patience is not just about waiting for something… it's about how you wait, or your attitude while waiting." – Joyce Meyer
Thanks for reading.
Best regards,
Santiago