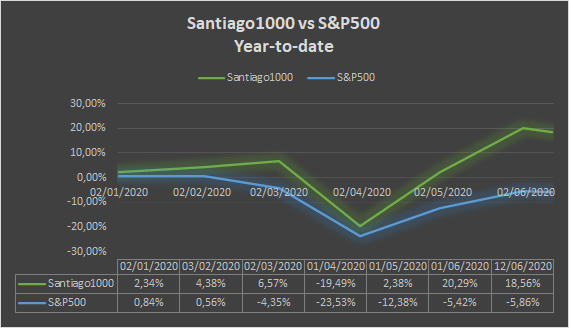 Portfolio Update – WEEK 24 (June 08st to June 14th)
Good morning,
Hello, how are you all?
The portfolio ended a nine-week winning streak, for this week slipped -2.10%. However, this was its longest series of consecutive weeks on the green. On the other hand, the market needs to retreat to be able to rise again. I consider it a normal movement in the stock market. Above all, for the year, the result is still fine, +18.56% YTD. In conclusion, the strategy continues to work surpassing the three main Wall Street indices. My wife and I were confined at home for 94 days. Check it out the portfolio stats https://etoro.tw/2UHOvRc .
In case of any doubt, you can access the FAQ of my blog: https://santiago1000.it/en/#faq
(Seeking Alpha) Stocks closed higher in a choppy session Friday, where the Dow Jones index swung nearly 900 points from gains to losses and back to gains again. But stocks finished their worst week since mid-March as traders took profits and grew nervous about a resurgence in COVID-19 cases in states that have reopened, including Florida, which recorded its biggest daily jump since May 1. The Fed also added a spotlight on job losses and risks to the economy in its semi-annual report to Congress; more clarity should come next week when Fed Chair Powell testifies on Capitol Hill. For the week, the Dow fell -5.5%, the S&P slipped -4.8% and the Nasdaq Composite dropped -2.3%.
Here is the detailed weekly income of the positions that make up the portfolio:
STOCKS
AMZN – Amazon.com, Inc. +2.50%
AAPL – Apple Inc. +2.20%
SHOP – Shopify Inc. +2.03%
AMD – Advanced Micro Devices, Inc. +0.75%
MSFT – Microsoft Corporation +0.29%
NVDA – NVIDIA Corporation +0.14%
TTD – The Trade Desk, Inc. +0.06%
FB – Facebook, Inc. -0.95%
GOOG – Alphabet Inc. -1.75%
SEDG – SolarEdge Technologies, Inc. -4.20%
MA – Mastercard Incorporated -4.52%
LULU – Lululemon Athletica Inc. -7.32% (earnings reported 06-11-20)
PAYC – Paycom Software, Inc. -8.18%
ENPH – Enphase Energy, Inc. -10.92%
No portfolio changes this week.
Stocks/ETFs on my radar and that interest me: ZM, FTNT, FSLY, TSLA, ADBE, NFLX, PYPL and MELI.
Over $1,000
Elon Musk could've been popping champagne bottles on Wednesday as Tesla (NASDAQ:TSLA) shares topped $1,000 for the first time ever, though instead he wrote to employees that it was "time to go all out" and put its Semi into volume production. It seems timely, given the hype surrounding newly listed Nikola (NASDAQ:NKLA), an EV truck maker that has seen its shares take off to dizzying levels. A rally of about another 11% in Tesla shares could see it become the world's most valuable carmaker, taking the crown currently worn by Toyota (NYSE:TM).
Facial recognition
Microsoft (NASDAQ:MSFT) became the latest firm to back away from the industry following similar moves by other big tech names. The company said it won't sell facial recognition software to police departments in the U.S. until there's a national law "grounded in human rights" to govern the technology. IBM (NYSE:IBM) is exiting the business entirely, while Amazon (NASDAQ:AMZN) is imposing a one-year moratorium on sales to police departments to "give Congress enough time to implement appropriate rules."
What is free speech on social media?
Presumptive Democratic nominee Joe Biden penned a letter to Facebook (NASDAQ:FB) that called, among other things, for the promotion of trustworthy sources of election-related information and to quickly remove fast-spreading misinformation and false paid advertisements. "Just as they have done with broadcast networks – where the U.S. government prohibits rejecting politicians' campaign ads the people's elected representatives should set the rules, and we will follow them," Facebook responded in a statement. Snap (NYSE:SNAP) is also facing some backlash after it stopped promoting President Trump's Snapchat account on its Discover feature, a move CEO Evan Spiegel said "is within its First Amendment rights."
Weekly Market Movement Wrap
U.S. Indices
Dow -5.6% to 25,606. S&P 500 -4.8% to 3,041. Nasdaq -2.3% to 9,589. Russell 2000 -7.9% to 1,379. CBOE Volatility Index +47.2% to 36.09.
S&P 500 Sectors
Consumer Staples -3.9%. Utilities -4.1%. Financials -12.%. Telecom -3.7%. Healthcare -6.2%. Industrials -9.8%. Information Technology -3.3%. Materials -9.8%. Energy -13.4%. Consumer Discretionary -3.9%.
Thanks for reading.
Best regards,
Santiago