Portfolio Update – WEEK 3 (January 18th to January 24th)
Good afternoon,
Hello, how are you all?
For the week, the portfolio rose +6.36% – AWESOME. For the last 12 months, the result is fine, +111.71% and for January moved up +8.47%. I remain confident in technology companies especially. In the next few days, I intend to add funds to the portfolio and reinforce the main positions. Check it out the portfolio stats https://etoro.tw/2UHOvRc .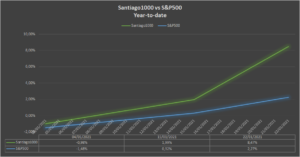 In case of any doubt, you can access the FAQ of my blog: https://santiago1000.it/en/#faq
(Seeking Alpha) The Dow Jones and S&P 500 indexes fell slightly on Friday but clawed back from their worst losses, while the Nasdaq edged higher to another record close, due mostly to a 10% plunge in IBM (IBM) after reporting its fourth consecutive quarter of declining sales. U.S. Treasury yields edged lower as doubts emerged about the Democrats' ability to get their $1.9T spending bill through Congress. Overseas, COVID-19 restrictions intensified from Germany to the U.K. to China, and the European Central Bank cautioned that the euro area is headed for a double-dip recession. For the week, the Nasdaq jumped +4.2%, the S&P gained +1.9% and the Dow added +0.6%, helped by a rally in Apple (AAPL), Microsoft (MSFT) and Facebook (FB). All three are scheduled to report earnings next week.
Here is the detailed weekly income of the positions that make up the portfolio:
STOCKS
PLTR – Palantir Technologies Inc. +27.07%
FSLY – Fastly, Inc. +17.08%
SEDG – SolarEdge Technologies, Inc. +13.77%
NFLX – Netflix, Inc. +13.49% (earnings reported 1/19/21)
ENPH – Enphase Energy, Inc. +11.27%
NIO – NIO Limited +10.09%
GOOG – Alphabet Inc. +9.50%
AAPL – Apple Inc. +9.38% (upcoming earnings announce date 1/27/21)
FB – Facebook, Inc. +9.21% (upcoming earnings announce date 1/27/21)
NVDA – NVIDIA Corporation +6.63%
MSFT – Microsoft Corporation +6.25% (upcoming earnings announce date 1/26/21)
MELI – MercadoLibre, Inc. +6.12%
AMZN – Amazon.com, Inc. +6.06%
AMD – Advanced Micro Devices, Inc. +5.19% (upcoming earnings announce date 1/26/21)
PYPL – PayPal Holdings, Inc. +5.09%
ETSY – Etsy, Inc. +4.49%
LMND – Lemonade, Inc. +3.89%
TTD – The Trade Desk, Inc. +3.51%
TSLA – Tesla, Inc. +2.48% (upcoming earnings announce date 1/27/21)
SHOP – Shopify Inc. +2.24%
CRWD – CrowdStrike Holdings Inc. +1.83%
LULU – Lululemon Athletica Inc. +0.54%
ZM – Zoom Video Communications, Inc. -0.29%
SQ – Square, Inc. -2.14%
FVRR – Fiverr Internacional Lt. -8.75%
No changes for the portfolio this week. Stocks/ETFs on my radar and that interest me: VALE, GM, CROX, RH, ADBE, OKTA and COUP .
Tale of two streaming giants
After nearly a decade of borrowing $15B to fund original content, Netflix (NFLX) on Tuesday said it planned to be cash flow positive after 2021 and would no longer need to tap debt markets to fund its programming. Netflix also said it will consider share buybacks, a practice it hasn't done since 2011, which was the last time the company was cash flow positive. The announcements came as part of Netflix's earnings announcement, which saw shares surge 12% AH as the streamer surpassed 200M global subscribers for the first time (it topped 100M subs in 2017).
On the other side of the screen, Disney (DIS) temporarily halted its dividend last year following calls from Dan Loeb to permanently end the $3B annual shareholder payment. The activist investor urged Disney to plunge that cash into original content, as it centers its operations around streaming, with plans to roll out dozens of Star Wars, Marvel and Pixar movies. Disney+ has gained an explosive 86M subscribers within a year and now expects 230M-260M on its flagship streaming service by 2024.
U.S. Indices
Dow +0.6% to 30,997. S&P 500 +1.9% to 3,841. Nasdaq +4.2% to 13,543. Russell 2000 +2.1% to 2,168. CBOE Volatility Index -10.% to 21.91.
S&P 500 Sectors
Consumer Staples -0.9%. Utilities -0.2%. Financials -1.8%. Telecom +6.%. Healthcare +0.6%. Industrials -0.4%. Information Technology +4.4%. Materials -1.2%. Energy -1.6%. Consumer Discretionary +3.1%.
Thanks for reading.
Have a good one,
Santiago