Portfolio Update – WEEK 41 (October 05st to October 11th)
Good morning,
Hello, how are you all?
For the week, the portfolio rallied +7.95%, for the year, the result is fine, +92.65% last 12 months and for October +8.81%. I remain confident in technology companies especially. In conclusion, the strategy continues to work surpassing the three main Wall Street indices. Check it out the portfolio stats https://etoro.tw/2UHOvRc .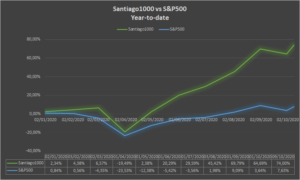 In case of any doubt, you can access the FAQ of my blog: https://santiago1000.it/en/#faq
(Seeking Alpha) Stocks scored their best week since August, as investors remained optimistic about reported progress in stimulus talks after President Trump seemed to shut down talks earlier in the week. The president claimed Friday that he wants an even bigger aid package than Democrats are proposing, and the administration returned to the bargaining table Friday with a $1.8 trillion counter proposal, but Republican Senate leaders cast doubt on whether a deal can be completed before the election. The tech sector stepped up to lead the market Friday, with semiconductor stocks hopping after reports said Xilinx is in talks to be acquired by AMD for $30 billion, and NXP Semiconductor raised third-quarter revenue guidance. For the week, the Dow jumped +3.3%, the S&P 500 climbed +3.8% and the Nasdaq rallied +4.6%.
Here is the detailed weekly income of the positions that make up the portfolio:
STOCKS
FSLY – Fastly, Inc. +32.77%
SEDG – SolarEdge Technologies, Inc. +21.37%
ENPH – Enphase Energy, Inc. +20.73%
MELI – MercadoLibre, Inc. +11.17%
PAYC – Paycom Software, Inc. +10.40%
TTD – The Trade Desk, Inc. +10.18%
NFLX – Netflix, Inc. +7.23%
SHOP – Shopify Inc. +6.51%
NVDA – NVIDIA Corporation +5.36%
AMZN – Amazon.com, Inc. +5.17%
MSFT – Microsoft Corporation +4.67%
TSLA – Tesla, Inc. +4.56%
LULU – Lululemon Athletica Inc. +4.15%
MA – Mastercard Incorporated +4.00%
GOOG – Alphabet Inc. +3.89%
AAPL – Apple Inc. +3.49%
PYPL – PayPal Holdings, Inc. +2.79%
ZM – Zoom Video Communications, Inc. +2.11%
FB – Facebook, Inc. +1.74%
AMD – Advanced Micro Devices, Inc. +1.59%
NIO – NIO Limited +1.37%
No portfolio changes this week.
Stocks/ETFs on my radar and that interest me: COUP, ADBE, VEEV, SQ and TLT.
Trump eases off his stimulus talks shutdown
President Donald Trump continues to take the markets on a wild ride, this time boosting U.S. stock index futures, saying he would still support specific forms of fiscal stimulus after calling an end to negotiations yesterday. Trump tweeted yesterday afternoon that another COVID relief bill would only go through after the election, sending stocks tumbling. Trump said a sticking point on aid for state and local governments amounted to a bailout of blue states. But he later tweeted support for a standalone bill for $1,200 stimulus checks, $25B in relief for airlines and paycheck protection program funds.
House hints at Big Tech breakup
A House antitrust subcommittee report due this week on big tech – Amazon.com (NASDAQ:AMZN), Apple (NASDAQ:AAPL), Facebook (NASDAQ:FB) and Alphabet (GOOG, GOOGL) – is hinting toward breaking up the tech giants, according to a lawmaker in the GOP minority. "This proposal is a thinly veiled call to break up Big Tech firms. We do not agree with the majority's approach," says Republican Congressman Ken Buck in a draft response seen by Reuters. He says he shares Democratic concerns about the companies' market power, but objects to requiring them to pursue a clear "single line of business."
U.S. Indices
Dow +3.3% to 28,587. S&P 500 +3.8% to 3,477. Nasdaq +4.6% to 11,580. Russell 2000 +6.4% to 1,637. CBOE Volatility Index -9.5% to 25..
S&P 500 Sectors
Consumer Staples +2.7%. Utilities +4.6%. Financials +3.7%. Telecom +2.2%. Healthcare +4.1%. Industrials +4.%. Information Technology +4.6 Materials +5.1%. Energy +5.%. Consumer Discretionary +3.9%.
Thanks for reading.
Have a good one,
Santiago