Portfolio Update – WEEK 34 (August 17th to August 23th)
Good morning,
Hello, how are you all?
For the week, the portfolio rose +4.89%, for the year, the result is fine, +54.34% YTD and for August +9.55%. I remain confident in technology companies especially. In conclusion, the strategy continues to work surpassing the three main Wall Street indices. Check it out the portfolio stats https://etoro.tw/2UHOvRc .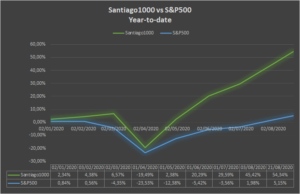 In case of any doubt, you can access the FAQ of my blog: https://santiago1000.it/en/#faq
(Seeking Alpha) Tech carried the major U.S. stock averages higher on Friday, with Apple, alone, adding more than $100B to its market cap. The impasse over further Federal coronavirus relief didn't faze investors as the week's economic reports wrapped up with strong existing home sales and robust PMI composite flash print. Crude oil slipped -1.3%, pushing the energy stocks mostly lower. The dollar index rose +0.5%. For the week, the Nasdaq advanced +2.7%, highlighting strong demand for tech amid the pandemic, the S&P managed a +0.7% gain, and the Dow was roughly flat.
Here is the detailed weekly income of the positions that make up the portfolio:
STOCKS
TSLA – Tesla, Inc. +24.19%
ZM – Zoom Video Communications, Inc. +18.28% (earnings upcoming announce 09-01-20)
FSLY – Fastly, Inc. +11.02%
NVDA – NVIDIA Corporation +9.28% (earnings reported 08-19-20)
AAPL – Apple Inc. +8.23%
LULU – Lululemon Athletica Inc. +5.62% (earnings upcoming announce 09-10-20)
GOOG – Alphabet Inc. +4.82%
AMZN – Amazon.com, Inc. +4.34%
MELI – MercadoLibre, Inc. +3.96%
SHOP – Shopify Inc. +3.36%
FTNT – Fortinet, Inc. +3.22%
MA – Mastercard Incorporated +3.15%
AMD – Advanced Micro Devices, Inc. +3.09%
PYPL – PayPal Holdings, Inc. +2.78%
FB – Facebook, Inc. +2.21%
NFLX – Netflix, Inc. +2.00%
MSFT – Microsoft Corporation +1.97%
ENPH – Enphase Energy, Inc. -0.02%
TTD – The Trade Desk, Inc. -0.82%
SEDG – SolarEdge Technologies, Inc. -2.70%
PAYC – Paycom Software, Inc. -5.23%
No portfolio changes this week.
Stocks/ETFs on my radar and that interest me: COUP, ADBE, VEEV, SQ and TLT.
Oracle's TikTok bid has President Trump's support
Asked about reports that Oracle (NYSE:ORCL) will make a bid for ByteDance's (BDNCE) TikTok, President Trump said, "Well I think Oracle is a great company and I think its owner is a tremendous guy, a tremendous person. I think that Oracle would be certainly somebody that could handle it." Earlier this month, Microsoft (NASDAQ:MSFT) said it was holding acquisition talks with ByteDance and the White House. Last week, Trump gave ByteDance 90 days to sell off TikTok's U.S. operations.
Weekly Market Movement Wrap
U.S. Indices
Dow flat at 27,930. S&P 500 +0.7% to 3,397. Nasdaq +2.7% to 11,312. Russell 2000 -1.8% to 1,550. CBOE Volatility Index +2.2% to 22.54.
S&P 500 Sectors
Consumer Staples +0.2%. Utilities -1.7%. Financials -3.4%. Telecom +1.7%. Healthcare 0.%. Industrials -1.5%. Information Technology +3.5%. Materials -1.3%. Energy -6.1%. Consumer Discretionary +2.4%
Thanks for reading.
Have a good one,
Santiago