Portfolio Update – WEEK 35 (August 24th to August 30th)
Good morning,
Hello, how are you all?
For the week, the portfolio rose +4.12%, for the year, the result is fine, +60.71% YTD and for August +14.07%. I remain confident in technology companies especially. In conclusion, the strategy continues to work surpassing the three main Wall Street indices. Check it out the portfolio stats https://etoro.tw/2UHOvRc .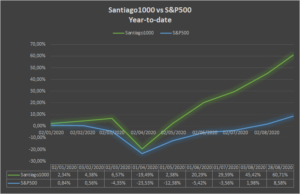 In case of any doubt, you can access the FAQ of my blog: https://santiago1000.it/en/#faq
(Seeking Alpha) Stocks wrapped up another strong week on a high note, as the Federal Reserve's new, more tolerant approach to inflation rippled through global markets. The S&P 500 gained for a seventh straight day and closed above 3,500 for the first time, the Nasdaq Composite also finished at a new record high and the Dow Jones moved into positive territory for the year. For the week, the S&P 500 made its largest weekly advance since early July, surging +3.3% higher, while the Dow and Nasdaq rose a respective +2.6% and +3.4%. Interest rates also rose for the week, with the 10-year Treasury yield now at 0.74%, a level it hasn't seen consistently in three months.
Here is the detailed weekly income of the positions that make up the portfolio:
STOCKS
FSLY – Fastly, Inc. +11.31%
FB – Facebook, Inc. +9.98%
MA – Mastercard Incorporated +8.61%
TSLA – Tesla, Inc. +7.97%
MSFT – Microsoft Corporation +7.46%
NFLX – Netflix, Inc. +6.41%
TTD – The Trade Desk, Inc. +5.18%
PAYC – Paycom Software, Inc. +4.40%
GOOG – Alphabet Inc. +4.05%
ENPH – Enphase Energy, Inc. +3.96%
PYPL – PayPal Holdings, Inc. +3.91%
SEDG – SolarEdge Technologies, Inc. +3.70%
NVDA – NVIDIA Corporation +3.66%
AMZN – Amazon.com, Inc. +3.56%
ZM – Zoom Video Communications, Inc. +3.31% (earnings upcoming announce 09-01-20)
LULU – Lululemon Athletica Inc. +2.37% (earnings upcoming announce 09-10-20)
AMD – Advanced Micro Devices, Inc. +2.08%
SHOP – Shopify Inc. +2.05%
AAPL – Apple Inc. +0.35%
FTNT – Fortinet, Inc. -0.74%
MELI – MercadoLibre, Inc. -1.94%
No portfolio changes this week.
Stocks/ETFs on my radar and that interest me: COUP, ADBE, VEEV, SQ and TLT.
Major shakeup for the Dow
Big changes are coming to the Dow Jones Industrial Average due to Apple's (NASDAQ:AAPL) 4-for-1 stock split, which will significantly reduce the benchmark's exposure to the information technology sector. Exxon Mobil (NYSE:XOM), Pfizer (NYSE:PFE) and Raytheon (NYSE:RTX) will be swapped out for Salesforce.com (NYSE:CRM), Amgen (NASDAQ:AMGN) and Honeywell (NYSE:HON), marking the biggest reshuffle in seven years. The moves are effective before the open on Monday, while the divisor used to calculate the blue-chip index from the constituents will be changed before then, preventing any distortions.
Amazon expands beyond Whole Foods
Moving further into the grocery sector to challenge Walmart (NYSE:WMT), Kroger (NYSE:KR) and Albertsons (NYSE:ACI), Amazon (NASDAQ:AMZN) opened the first location of its new chain of Fresh grocery stores in Woodland Hills, California. The 35,000-square foot store features Echo Show devices to ask Alexa where certain items are located, and debuted the Dash Cart, a smart grocery cart that tracks shoppers' items and allows them to skip the checkout line. There will also be a service counter for people to pick up orders from Amazon.com, and they can also complete returns there without having to package their items in boxes.
Weekly Market Movement Wrap
U.S. Indices
Dow +2.6% to 28,654. S&P 500 +3.3% to 3,508. Nasdaq +3.4% to 11,696. Russell 2000 +1.5% to 1,576. CBOE Volatility Index +1.9% to 22.96.
S&P 500 Sectors
Consumer Staples +2.4%. Utilities -0.7%. Financials +4.4%. Telecom +4.8%. Healthcare +1.%. Industrials +3.%. Information Technology +4.5%. Materials +3.3%. Energy +1.1%. Consumer Discretionary +3.1%.
Thanks for reading.
Have a good one,
Santiago