Portfolio Update – WEEK 27 (June 29th to July 05th)
Good morning,
Hello, how are you all?
For the week, the portfolio rose +7.08%, for the year, the result is fine, +30.52% YTD and June +6.20%. In conclusion, the strategy continues to work surpassing the three main Wall Street indices. My wife and I were confined at home for 115 days. Check it out the portfolio stats https://etoro.tw/2UHOvRc .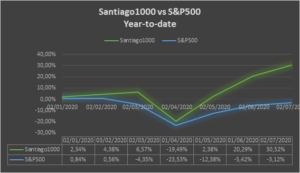 In case of any doubt, you can access the FAQ of my blog: https://santiago1000.it/en/#faq
(Seeking Alpha) Stocks finished the week higher, despite some selling during the last hour on Thursday. The Dow rose +3.3% for the week and the S&P 500 climbed +4.0% to mark the biggest weekly gain since June 5. The week was capped with off with a strong jobs report as the U.S. economy created 4.8M jobs in June and the unemployment rate fell to 11.1% from 13.3% in May. Oil wrapped up the week with a +5% gain, making up for the loss of -4% seen last week and keeping prices above $40/bbl. Gold futures were about flat for the week, easing off from the $1,800 level that was topped on Tuesday for the first time since 2011.
Here is the detailed weekly income of the positions that make up the portfolio:
STOCKS
TSLA – Tesla, Inc. +25.94%
SHOP – Shopify Inc. +13.18%
SEDG – SolarEdge Technologies, Inc. +10.48%
TTD – The Trade Desk, Inc. +8.82%
FB – Facebook, Inc. +8.02%
ENPH – Enphase Energy, Inc. +7.86%
GOOG – Alphabet Inc. +7.71%
NFLX – Netflix, Inc. +7.55%
AMZN – Amazon.com, Inc. +7.33%
LULU – Lululemon Athletica Inc. +5.26%
MSFT – Microsoft Corporation +5.06%
NVDA – NVIDIA Corporation +4.99%
PAYC – Paycom Software, Inc. +4.94%
MA – Mastercard Incorporated +4.52%
AMD – Advanced Micro Devices, Inc. +4.47%
PYPL – PayPal Holdings, Inc. +3.71%
AAPL – Apple Inc. +2.96%
FTNT – Fortinet, Inc. +2.89%
ZM – Zoom Video Communications, Inc. +1.92%
MELI – MercadoLibre, Inc. +1.57%
FSLY – Fastly, Inc. -2.31%
No portfolio changes this week.
Stocks/ETFs on my radar and that interest me: ADBE, VEEV, SQ and TLT.
Facebook boycott goes global
"The next frontier is global pressure," said organizers of the "Stop Hate for Profit" campaign against Facebook (NASDAQ:FB), emboldening regulators in Europe to take a harder stance on the social media giant. Since the campaign launched on June 17, more than 160 companies, including Coca-Cola (NYSE:KO), Starbucks (NASDAQ:SBUX), Unilever (UN, UL) and Verizon (NYSE:VZ), pledged to stop buying Facebook ads for the month of July, and some have gone even further. What does the campaign want from Facebook? Solutions include a separate moderation process to help users who are targeted by racism, more transparency on how many incidents of hate speech are reported and to stop generating ad revenue from harmful content.
All in the family
Cosmetics maker Coty (NYSE:COTY) agreed to buy a 20% stake in Kim Kardashian West's make-up brand KKW for $200M, valuing the three-year-old company at $1B. That's slightly less than the $1.2B valuation Coty put on Kim's younger sister Kylie Jenner's business when it bought a 51% cent stake last year. Meanwhile, shares of Gap (NYSE:GPS) soared nearly 20% last Friday after the retailer announced a 10-year deal with the Yeezy fashion brand of Kanye West, who is married to Kim Kardashian.
Most valuable automaker
Tesla (NASDAQ:TSLA) soared 3.7% to $1,120/share on Wednesday to trade at a higher market cap than Japan's Toyota (NYSE:TM). That makes the company the most valuable automaker in the world and caps off a 10-year run that went into Ludicrous mode over the last six months. Another boost? Tesla reported second quarter deliveries of 90,650 vehicles on Thursday, beating expectations of 83,000.
Weekly Market Movement Wrap
U.S. Indices
Dow +3.2% to 25,827. S&P 500 +4% to 3,130. Nasdaq +4.6% to 10,208. Russell 2000 +3.4% to 1,433. CBOE Volatility Index -20.3% to 27.68.
S&P 500 Sectors
Consumer Staples +0.6%. Utilities +1.2%. Financials -1.9%. Telecom -1.2%. Healthcare +1.4%. Industrials +2%. Information Technology +1%. Materials +1.9%. Energy flat. Consumer Discretionary +0.7%.
Thanks for reading.
Have a good one,
Santiago