Portfolio Update – WEEK 28 (July 06th to July 12th)
Good morning,
Hello, how are you all?
For the week, the portfolio rose +6.53%, for the year, the result is fine, +39.04% YTD and June +10.10%. In conclusion, the strategy continues to work surpassing the three main Wall Street indices. My wife and I were confined at home for 122 days. Check it out the portfolio stats https://etoro.tw/2UHOvRc .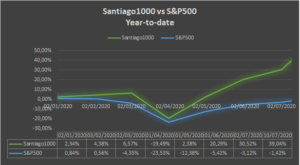 In case of any doubt, you can access the FAQ of my blog: https://santiago1000.it/en/#faq
(Seeking Alpha) Wall Street finished the day and the week with solid gains, as a rotation trade helped stocks gain steadily from a flat open. The financials sector took the leadership mantle from tech, at least for a day, ahead of next week's start to the quarterly earnings season. Momentum stocks enjoyed standout performances, as Tesla soared +11% to top $1,500 for the first time, and Netflix bounced +8% following a favorable report from Goldman Sachs. Gilead Sciences gained 2% after saying its leading coronavirus treatment candidate showed a 62% reduction in mortality risk compared with standard care. For the week, Nasdaq was king with a +4% rally, while the S&P 500 rose +1.8% and the Dow Jones added +1%.
Here is the detailed weekly income of the positions that make up the portfolio:
STOCKS
TSLA – Tesla, Inc. +27.80%
NFLX – Netflix, Inc. +15.06% (earnings upcoming announce 07-16-20)
ENPH – Enphase Energy, Inc. +13.45%
FSLY – Fastly, Inc. +12.31%
SEDG – SolarEdge Technologies, Inc. +11.41%
AMZN – Amazon.com, Inc. +10.72%
NVDA – NVIDIA Corporation +9.02%
AMD – Advanced Micro Devices, Inc. +6.76%
ZM – Zoom Video Communications, Inc. +5.40%
AAPL – Apple Inc. +5.37%
FTNT – Fortinet, Inc. +5.32%
GOOG – Alphabet Inc. +5.26%
FB – Facebook, Inc. +4.99%
MELI – MercadoLibre, Inc. +4.80%
TTD – The Trade Desk, Inc. +4.30%
MSFT – Microsoft Corporation +3.59%
LULU – Lululemon Athletica Inc. +3.16%
PYPL – PayPal Holdings, Inc. +0.67%
SHOP – Shopify Inc. +0.18%
MA – Mastercard Incorporated -2.23%
PAYC – Paycom Software, Inc. -3.89%
No portfolio changes this week.
Stocks/ETFs on my radar and that interest me: ADBE, VEEV, SQ and TLT.
Tesla keeps momentum going
Shares of the EV maker jumped nearly 25% in just over a week to top $1,400, causing fresh pain for bearish investors. Elon Musk teased the shorts by selling pairs of 'Short Shorts,' while the stock received some love and PT boosts from the Street. "I remain confident that we will have the basic functionality for level 5 autonomy complete this year," Musk added, as the company competes against Google's Waymo (GOOG, GOOGL), GM's Cruise (NYSE:GM), Amazon's Zoox (NASDAQ:AMZN) and Uber (UBER) in the self-driving arena. Tesla (NASDAQ:TSLA) also appears on the verge of joining the S&P 500, a move that would unleash a flood of new demand.
#BoycottFacebook
Organizers of the "Stop Hate for Profit" campaign said they weren't impressed following meeting with Facebook (NASDAQ:FB) executives on Tuesday. "We had 10 demands and literally we went through the 10 and we didn't get commitments or timeframes or clear outcomes. We expected specifics, and that's not what we heard," Anti-Defamation League CEO Jonathan Greenblatt declared. The gathering also included leaders from the NAACP, Color of Change and Free Press. Prior to the meeting, Facebook COO Sheryl Sandberg said the company is "making changes – not for financial reasons or advertiser pressure, but because it is the right thing to do."
The Generic Big Four
The chart and table below illustrate the performance of the generic Big Four with an overlay of a simple average of the four since the end of the Great Recession. The data points show the cumulative percent change from a zero starting point for June 2009.
Weekly Market Movement Wrap
U.S. Indices
Dow +1% to 26,075. S&P 500 +1.8% to 3,185. Nasdaq +4% to 10,617. Russell 2000 -0.1% to 1,419. CBOE Volatility Index -1.4% to 27.29.
S&P 500 Sectors
Consumer Staples +2.5%. Utilities -0.2%. Financials +2.2%. Telecom +4.7%. Healthcare -0.9%. Industrials -1.4%. Information Technology +2.7%. Materials +0.8%. Energy -4.6%. Consumer Discretionary +4.8%.
Thanks for reading.
Have a good one,
Santiago