Portfolio Update – WEEK 29 (July 13th to July 19th)
Good morning,
Hello, how are you all?
For the week, the portfolio slipped -3.99%, for the year, the result is fine, +33.49% YTD and July +5.70%. In conclusion, the strategy continues to work surpassing the three main Wall Street indices. Check it out the portfolio stats https://etoro.tw/2UHOvRc .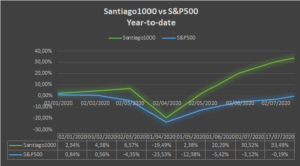 In case of any doubt, you can access the FAQ of my blog: https://santiago1000.it/en/#faq
(Seeking Alpha) The main stock market averages see-sawed between gains and losses on a quiet summer Friday, as weekend profit-taking trimmed gains before the close. Market leadership swung to defensive sectors such as utilities, real estate and health care, while financials lagged as big bank earnings reports sent up warning signals. Some of the megacap tech stocks continued to underperform, as Amazon fell for the fifth straight session to cap a 7.5% loss for the week, and Netflix plunged 6.5% after reporting second quarter earnings that missed estimates and issuing weak guidance for subscriber growth. The tech sector's struggle this week led to a divergence between the Nasdaq and the other two other major indexes, with the tech-heavy index slumping 1.1% on the week while the S&P 500 and Dow rose 1.3% and 2.3% respectively. Oil prices ended the week over $40 a barrel after OPEC+ agreed to relax production curbs.
Here is the detailed weekly income of the positions that make up the portfolio:
STOCKS
SEDG – SolarEdge Technologies, Inc. +7.61%
ENPH – Enphase Energy, Inc. +7.00%
MA – Mastercard Incorporated +2.83%
LULU – Lululemon Athletica Inc. +0.77%
AAPL – Apple Inc. +0.42%
FB – Facebook, Inc. -1.24%
AMD – Advanced Micro Devices, Inc. -1.50%
GOOG – Alphabet Inc. -1.70%
PYPL – PayPal Holdings, Inc. -2.51%
NVDA – NVIDIA Corporation -2.65%
TSLA – Tesla, Inc. -2.84% (earnings upcoming announce 07-21-20)
PAYC – Paycom Software, Inc. -4.51%
MSFT – Microsoft Corporation -5.05% (earnings upcoming announce 07-21-20)
TTD – The Trade Desk, Inc. -6.27%
MELI – MercadoLibre, Inc. -6.87%
AMZN – Amazon.com, Inc. -7.44% (earnings upcoming announce 07-23-20)
SHOP – Shopify Inc. -10.05%
NFLX – Netflix, Inc. -10.16% (earnings reported 07-16-20)
ZM – Zoom Video Communications, Inc. -10.63%
FTNT – Fortinet, Inc. -11.44%
FSLY – Fastly, Inc. -17.82%
No portfolio changes this week.
Stocks/ETFs on my radar and that interest me: ADBE, VEEV, SQ and TLT.
Apple wins tax battle with EU
Apple (NASDAQ:AAPL) does not have to pay €13B in Irish back taxes, according to the EU's General Court, which concluded that the tech giant has not been "granted a selective economic advantage and, by extension, state aid." The decision, which can only be appealed "on points of law" to the EU's highest tribunal, is a setback for the European Commission, which ruled in August 2016 that Apple's practice of channeling sales through units in low-tax member states violated the bloc's state aid rules. This case is particularly important due to the EU's crackdown on taxation in recent years and could impact how the bloc deals with similar matters given the recent trend toward digital services taxes.
Skipping the checkout line
After opening its first Amazon Go stores to the public in 2018, Amazon (NASDAQ:AMZN) doubled down on its cashierless technology with innovative smart shopping carts. The Dash Carts are embedded with cameras, sensors, a weighing component and a smart display that automatically track a shopper's order, and allow for a digital checkout without a human cashier. The carts, designed for small- to mid-sized grocery trips, will come first to Amazon's grocery store in the Woodland Hills neighborhood of Los Angeles, which is slated to open in 2020.
Major case surrounding data privacy
Europe's top court invalidated the "Privacy Shield," an EU-U.S. framework used to transfer personal data across the Atlantic. The ruling came in a clash between Facebook (NASDAQ:FB) and Austrian privacy activist Max Schrems, who has challenged the tech giant's handling of EU citizens' data ever since Edward Snowden's spying revelations in 2013. While the ruling does not mean an immediate halt to all data transfers outside the EU – the court upheld the validity of "Standard Contractual Clauses" to processors established in third countries – scrutiny over data transfers will be ramped up. A new system may also have to be implemented which guarantees that Europeans' data is afforded the same EU standard of privacy protection in the U.S.
Warning on growth
Netflix shares plunged over 9% AH on Thursday, wiping out nearly all the gains from the last month, after earnings fell below a lofty profit consensus and weak guidance was given for Q3. While the streamer logged another 10.1M new paid subscribers last quarter, it sees "growth slowing as consumers get through the initial shock of COVID and social restrictions." There were also big changes in the C-suite: Ted Sarandos, who has led original content efforts, was named co-CEO along with founder Reed Hastings, while chief product officer Greg Peters added COO to his title. Looking ahead, some are asking how much new content Netflix (NASDAQ:NFLX) will be able to upload during the COVID-19 pandemic and whether the resumption of professional sports will eat into its market share.
Weekly Market Movement Wrap
U.S. Indices
Dow +2.3% to 26,672. S&P 500 +1.3% to 3,225. Nasdaq -1.1% to 10,503. Russell 2000 +3.7% to 1,475. CBOE Volatility Index -5.9% to 25.68.
S&P 500 Sectors
Consumer Staples +1.5%. Utilities +1.9%. Financials +2.9%. Telecom -0.5%. Healthcare +3.7%. Industrials +5.2%. Information Technology -1.6%. Materials +4.6%. Energy +4.5%. Consumer Discretionary -1.%.
Thanks for reading.
Have a good one,
Santiago