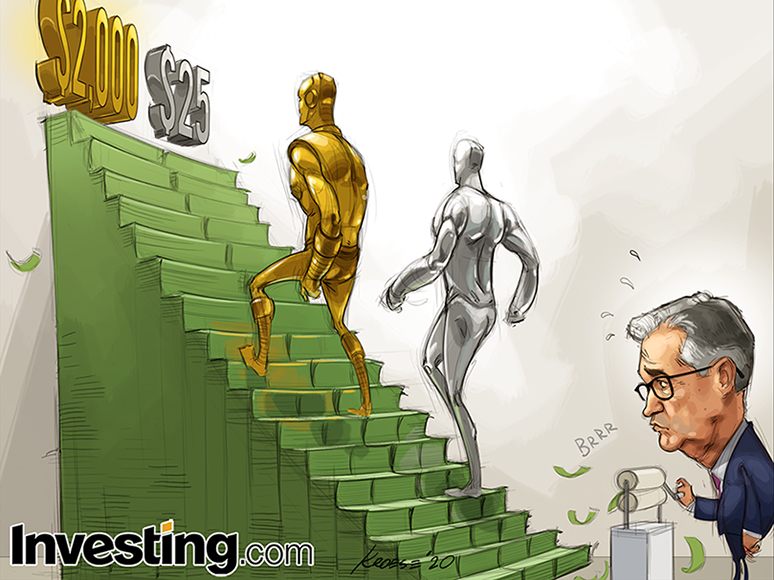 Portfolio Update – WEEK 30 (July 20th to July 26th)
Good morning,
Hello, how are you all?
For the week, the portfolio remained stable -0.1%, for the year, the result is fine, +33.36% YTD and July +5.60%. In conclusion, the strategy continues to work surpassing the three main Wall Street indices. My wife and I were confined at home for 129 days. Check it out the portfolio stats https://etoro.tw/2UHOvRc .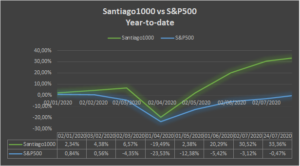 In case of any doubt, you can access the FAQ of my blog: https://santiago1000.it/en/#faq
(Seeking Alpha) Stocks finished the week on a down note as technology slumped again, this time led hit by semiconductors. The S&P 500 closed down -0.28% for the week to mark its first negative week in four, while the Nasdaq closed down -1.33% to record two weeks in a row of a loss. Investors had rising China-U.S. tensions and a lack of progress on another fiscal stimulus bill to contend with, while President Trump also signed executive orders aimed at lowering drug prices just before the closing bell on Friday.
Here is the detailed weekly income of the positions that make up the portfolio:
STOCKS
AMD – Advanced Micro Devices, Inc. +26.09% (earnings upcoming announce 07-28-20)
AAPL – Apple Inc. +3.85% (earnings upcoming announce 07-30-20)
FTNT – Fortinet, Inc. +3.04%
MELI – MercadoLibre, Inc. +2.52% (earnings upcoming announce 07-31-20)
AMZN – Amazon.com, Inc. +1.58% (earnings reported 07-23-20)
LULU – Lululemon Athletica Inc. +1.48%
FSLY – Fastly, Inc. +1.03%
MA – Mastercard Incorporated +0.94% (earnings upcoming announce 07-30-20)
ENPH – Enphase Energy, Inc. +0.57%
SHOP – Shopify Inc. +0.18% (earnings upcoming announce 07-29-20)
SEDG – SolarEdge Technologies, Inc. +0.01%
ZM – Zoom Video Communications, Inc. +0.01%
NVDA – NVIDIA Corporation -0.07%
GOOG – Alphabet Inc. -0.24% (earnings upcoming announce 07-30-20)
PYPL – PayPal Holdings, Inc. -0.78% (earnings upcoming announce 07-29-20)
MSFT – Microsoft Corporation -0.78% (earnings reported 07-21-20)
TTD – The Trade Desk, Inc. -1.61%
NFLX – Netflix, Inc. -2.54%
PAYC – Paycom Software, Inc. -2.75%
FB – Facebook, Inc. -4.68% (earnings upcoming announce 07-29-20)
TSLA – Tesla, Inc. -5.59% (earnings reported 07-21-20)
No portfolio changes this week.
Stocks/ETFs on my radar and that interest me: ADBE, VEEV, SQ and TLT.
Coronavirus stimulus package
"We did it! We have reached a deal on the [coronavirus] recovery package and the European budget for 2021-2027," tweeted European Council President Charles Michel on Tuesday, after nearly five days of talks in Nice. "This agreement sends a concrete signal that Europe is a force for action," he added, prompting the euro to hit a fresh four-month high of $1.1470. Within the €750B coronavirus recovery fund, €390B will be offered as non-repayable grants (down from €500B originally proposed), and the rest in repayable loans. Leaders also agreed to an EU budget of over €1T that will run from next year to 2027.
Tesla knocks on S&P 500's door
Posting its fourth consecutive quarter of profit, Tesla climbed another 6.2% AH during extended trading on Wednesday, opening the door for the company's inclusion in the S&P 500. Adjusted for one-time items, Tesla (NASDAQ:TSLA) earned $2.18 a share, swinging from an adjusted loss of $1.12 a share a year ago, while sales fell 5% to $6.04B. On the earnings call, Elon Musk announced that Tesla will build its next "massive" factory near Austin, Texas, which will produce the Cybertruck, a pickup truck and the Tesla Semi, as well as the Model 3 and Y for the East Coast. He also talked up the development of the autonomous driving program, promising more developments by the end of 2020.
Shaking off a stellar quarter
Despite fiscal Q4 results that were largely positive, shares of Microsoft (NASDAQ:MSFT) fell as much as 3% during the same after-hours session. The software giant easily beat analyst estimates, reporting a net profit of $11.2B and revenue that rose 13% to $38B. Traders may have been looking for more. The company's cloud computing operation saw sales growth under 50% for the first time, while transactional license purchasing continued to slow and subsidiary LinkedIn was negatively impacted by the weak job market.
Foray into auto insurance
There was big news out of India as Amazon Pay (NASDAQ:AMZN) partnered with private firm Acko General Insurance to offer car and motorcycle insurance. It's the e-commerce giant's first market for the service, where it will compete with local rivals including Paytm and Policybazaar. Amazon is moving fast to become a full-fledged financial services platform, with Amazon Pay supporting a range of payments services, including the popular UPI, and debit and credit cards. Meanwhile, India's Flipkart (FPKT) announced it would acquire parent Walmart's (NYSE:WMT) local cash-and-carry business, attempting to strengthen its wholesale offering to compete better with Amazon.
Gold and Silver are traded for a maximum of many years with stimuli from BCs.
Weekly Market Movement Wrap
U.S. Indices
Dow -0.8% to 26,470. S&P 500 -0.3% to 3,216. Nasdaq -1.3% to 10,363. Russell 2000 -0.3% to 1,468. CBOE Volatility Index +0.6% to 25.84.
S&P 500 Sectors
Consumer Staples +0.8%. Utilities +0.1%. Financials +1.3%. Telecom -1.1%. Healthcare -0.7%. Industrials -0.2%. Information Technology -1.5%. Materials +0.5%. Energy +2.1%. Consumer Discretionary +1.3%.
Thanks for reading.
Have a good one,
Santiago