Portfolio Update – WEEK 44 (October 26st to October 31st)
Good morning,
Hello, how are you all?
For the week, the portfolio slipped -7.33%, for the last 12 months, the result is fine, +70.70% and for October -1.72%. I remain confident in technology companies especially. In conclusion, the strategy continues to work surpassing the three main Wall Street indices. Check it out the portfolio stats https://etoro.tw/2UHOvRc .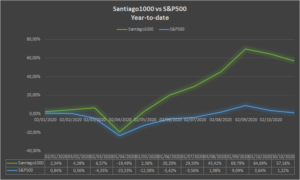 In case of any doubt, you can access the FAQ of my blog: https://santiago1000.it/en/#faq
(Seeking Alpha) Stocks fell on Friday, led by the megacap tech names, to wrap up the worst week since March as coronavirus cases surged, U.S. fiscal stimulus talks broke down and traders braced for next week's presidential election. Some buying in the last half hour of trading brought the major averages substantially off their lows of the day. Among the tech megacaps, only Google managed to eke out a gain following its Thursday earnings report, Apple pared more than 5% and is now more than 20% below its all-time high, Facebook fell 6% amid concerns about the 2021 ad market, and Twitter plunged 20% to wipe out its big run-up since mid-September. For the week, the Dow Jones average tumbled 6.5%, the S&P 500 sank 5.6%, and the Nasdaq lost 5.5%.
Here is the detailed weekly income of the positions that make up the portfolio:
STOCKS
NIO – NIO Limited +12.59%
GOOG – Alphabet Inc. -1.22%
NFLX – Netflix, Inc. -2.57%
LULU – Lululemon Athletica Inc. -4.38%
ENPH – Enphase Energy, Inc. -5.07%
AMZN – Amazon.com, Inc. -5.25%
AAPL – Apple Inc. -5.37%
PAYC – Paycom Software, Inc. -6.32%
MSFT – Microsoft Corporation -6.36%
MELI – MercadoLibre, Inc. -7.48%
FB – Facebook, Inc. -7.61%
TSLA – Tesla, Inc. -7.75%
NVDA – NVIDIA Corporation -7.77%
AMD – Advanced Micro Devices, Inc. -8.14%
PYPL – PayPal Holdings, Inc. -8.33%
TTD – The Trade Desk, Inc. -8.62%
SEDG – SolarEdge Technologies, Inc. -8.90%
SHOP – Shopify Inc. -9.82%
ZM – Zoom Video Communications, Inc. -9.89%
FSLY – Fastly, Inc. -16.82%
I closed $MA .
Stocks/ETFs on my radar and that interest me: COUP, ADBE, VEEV, SQ and TLT.
Big Tech parade
Alphabet (GOOG, GOOGL) took the spotlight of Thursday's Big Tech earnings show, rallying as much as 8% AH as ad sales bounced back sharply from a pandemic slump (YouTube pulled in more than $5B alone). While other peers did quite well, the quarterly reports led traders to pull out of the sector. Facebook (NASDAQ:FB) slipped nearly 3% amid a user decline and "a significant amount of COVID-related uncertainty," though revenues were up more than 20% despite ad boycotts. Amazon (NASDAQ:AMZN) also fell 1.5% after predicting $4B in pandemic costs next quarter, while Apple (NASDAQ:AAPL) declined 4% as iPhone sales missed estimates due to customers holding off on purchases before the release of the iPhone 12.
Go Deeper: Microsoft posts weak PC forecast, pandemic tailwinds continue.
Record GDP growth rate
U.S. GDP came roaring back in Q3 at an annualized rate of 33.1% (vs. +30.9% consensus estimate and -31.4% prior). The number of U.S. workers filing initial claims for unemployment insurance also fell by 40,000 to 751,000 last week to the lowest level since the pandemic began, though some are skeptical about taking a quick look at the data. "Much of the Q3 gain came from carry-over effects from fast progress in May-July while real GDP remains down 2.9% Y/Y," said Gregory Daco, chief U.S. economist for Oxford Economics. Furthermore, "the average 7.4% (or 33.1% annualized) advance tells us little, if anything, about momentum heading into Q4."
Blame game
"Your ALL OR NOTHING approach is hurting hard-working Americans who need help NOW," Treasury Secretary Steven Mnuchin said in response to a letter from House Speaker Nancy Pelosi, which detailed six areas that need to be addressed before stimulus talks can move forward. Those include state and local funding, school safety, child care, tax credits for working families, unemployment insurance and worker liability. While an aid package is out of sight before the election, Pelosi said it may be possible to strike a COVID relief deal in the so-called the lame-duck session of Congress.
Chip sector M&A
Intensifying its battle with Intel (NASDAQ:INTC) in the data center chip market, Advanced Micro Devices (NASDAQ:AMD) agreed to buy Xilinx (NASDAQ:XLNX) in a $35B all-stock deal. The tie-up would create a combined firm with 13,000 engineers, with a nimble manufacturing strategy that relies heavily on Taiwan Semiconductor Manufacturing (NYSE:TSM). It didn't stop there. Marvell Technology (NASDAQ:MRVL) announced a deal to acquire Inphi (NASDAQ:IPHI) for a purchase price of $10B, on the back of Nvidia's (NASDAQ:NVDA) $40B transaction for Arm and Analog Devices' (NASDAQ:ADI) $20.9B agreement for Maxim Integrated Products (NASDAQ:MXIM).
U.S. Indices
Dow -6.5% to 26,502. S&P 500 -5.6% to 3,270. Nasdaq -5.5% to 10,912. Russell 2000 -6.7% to 1,531. CBOE Volatility Index +38% to 38.02.
S&P 500 Sectors
Consumer Staples -4.8%. Utilities -3.7%. Financials -5.6%. Telecom -3.9%. Healthcare -5.7%. Industrials -6.5%. Information Technology -6.5%. Materials -4.3%. Energy -5.7%. Consumer Discretionary -6.2%.Dow -1.0% to 28,336. S&P 500 -0.5% to 3,465. Nasdaq -1.1% to 11,548. Russell 2000 +0.4% to 1,640. CBOE Volatility Index +0.5% to 27.55.
Thanks for reading.
Have a good one,
Santiago