Portfolio Update – WEEK 45 (November 02sd to November 08st)
Good morning,
Hello, how are you all?
For the week, the portfolio jumped +14.19%, for the last 12 months, the result is fine, +78.01% and for November +13.27%. I remain confident in technology companies especially. This was the week with the biggest increase for the portfolio. $ TTD, $ NIO, $ ENPH and $ MELI were the main protagonists of the week with gains of over 20% in the period. In conclusion, the strategy continues to work surpassing the three main Wall Street indices. Check it out the portfolio stats https://etoro.tw/2UHOvRc .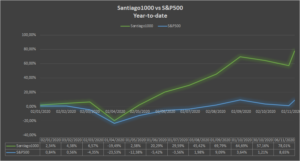 In case of any doubt, you can access the FAQ of my blog: https://santiago1000.it/en/#faq
(Seeking Alpha) Stocks faded late to finish mostly flat on Friday, as investors awaited final election vote tallies in four key states, and stimulus negotiations re-emerged as a market driver with Senate Majority Leader McConnell talking about pushing forward his smaller coronavirus package, the same deal that House Democrats have opposed for months. Meanwhile, the Centers for Disease Control reported the U.S. is the first country with more than 100,000 COVID cases for a second straight day. Despite the uncertainty around the presidential vote, Wall Street scored its best weekly showing since April, with the Dow, S&P 500 and Nasdaq jumping +6.9%, +7.3% and +9%, respectively.
Here is the detailed weekly income of the positions that make up the portfolio:
STOCKS
TTD – The Trade Desk, Inc. +44.64%
NIO – NIO Limited +36.13%
ENPH – Enphase Energy, Inc. +24.92%
MELI – MercadoLibre, Inc. +22.39%
NVDA – NVIDIA Corporation +16.18%
FSLY – Fastly, Inc. +15.62%
AMD – Advanced Micro Devices, Inc. +14.07%
SHOP – Shopify Inc. +12.92%
FB – Facebook, Inc. +11.52%
TSLA – Tesla, Inc. +10.80%
MSFT – Microsoft Corporation +10.50%
AMZN – Amazon.com, Inc. +9.06%
AAPL – Apple Inc. +9.03%
PYPL – PayPal Holdings, Inc. +8.92%
GOOG – Alphabet Inc. +8.68%
ZM – Zoom Video Communications, Inc. +8.50%
NFLX – Netflix, Inc. +8.20%
LULU – Lululemon Athletica Inc. +7.68%
SEDG – SolarEdge Technologies, Inc. -7.83%
I closed $PAYC .
Stocks/ETFs on my radar and that interest me: COUP, ADBE, VEEV, SQ and TLT.
Emergency election measures
Facebook (NASDAQ:FB) pulled the trigger on "temporary emergency measures" that executives previously described as their "break glass" options to respond to post-election unrest. Examples: The company took down the "Stop the Steal" group, which was organizing protests of vote counts around the country and grew to more than 361,000 members within 24 hours. Another feature will require users seeking to share election-related material to click through a notice encouraging them to visit the website's Voting Information Center. Facebook will also restrict the spread of live video and reduce the likelihood that users will see content that its algorithms classify as potential misinformation.
TikTok arguments made in court
The battle surrounding TikTok came back into focus as lawyers for the Chinese-owned video app clashed with the DOJ's legal team in federal court to stave off a government-ordered shutdown set for Nov. 12. District Judge Carl Nichols previously blocked an attempt by the Trump administration to impose a September ban on new TikTok downloads in the U.S., saying the move amounted to a prohibited use of broad emergency powers, but he didn't immediately rule on the latest shutdown attempt. The Nov. 12 deadline is aimed at pressuring TikTok parent ByteDance (BDNCE) to reach a settlement transferring TikTok's ownership to a group that would potentially include Oracle (NYSE:ORCL) and Walmart (NYSE:WMT). Details of the structure are still up in the air as the companies try to ensure it would win final approval from both the Chinese and American governments.
Stimulus bill by end of the year?
Senate Majority Leader Mitch McConnell flagged a new economic stimulus bill as his top priority when the chamber returns to work next week. "Hopefully, the partisan passions that prevented us from doing another rescue package will subside with the election. And I think we need to do it and I think we need to do it before the end of the year." The House, controlled by Democrats, passed a $3T stimulus bill in May, then passed a revised $2.2T package in early October – neither of which were taken up by the Senate – while McConnell has tried twice, unsuccessfully, to pass a half-trillion-dollar program that provides aid for schools and replenishes the PPP small loan program.
Fed not out of firepower
The FOMC made no change to its pace of asset purchases and kept rates at rock bottom on Thursday, which will stay there until the pandemic-hit economy reaches full employment with higher inflation. Fed Chair Jay Powell also made another pitch for a stimulus package from Congress, but he might have to do more on the monetary end if the gridlock continues amid a "particularly concerning" rise in new COVID-19 cases. "Is monetary policy out of power or out of ammunition? The answer to that is no, I don't think that," Powell declared. "I think that we're strongly committed to using these powerful tools for as long as needed."
U.S. Indices
Dow +6.9% to 28,323. S&P 500 +7.3% to 3,509. Nasdaq +9.0% to 11,895. Russell 2000 +7.1% to 1,647. CBOE Volatility Index -34.6% to 24.86.
S&P 500 Sectors
Consumer Staples +4.6%. Utilities +2.8%. Financials +4.5%. Telecom +7.6%. Healthcare +8.3%. Industrials +7.2%. Information Technology +9.7%. Materials +7.6%. Energy +0.8%. Consumer Discretionary +7.4%.Dow -6.5% to 26,502. S&P 500 -5.6% to 3,270. Nasdaq -5.5% to 10,912. Russell 2000 -6.7% to 1,531. CBOE Volatility Index +38% to 38.02.
Thanks for reading.
Have a good one,
Santiago