Portfolio Update – WEEK 46 (November 09th to November 15th)
Good morning,
Hello, how are you all?
For the week, the portfolio slipped -6.46%, for the year, the result is fine, +67.87% and for November +6.82%. Above all, I remain confident in technology companies especially. In the next few days, I intend to add funds to the portfolio and reinforce the main positions. Investors are likely to continue to hedge their bets between growth vs. value and vaccine plays vs. COVID shutdowns in the week ahead. Economic reports to watch include updates on retail sales, existing home sales and jobless claims. On the corporate side, big box retailers Walmart $WMT , Target $TGT and Home Depot $HD spill numbers. Nio $NIO is also in the earnings confessional with a report that could impact Chinese EV peers XPeng and Kandi Technologies. Finally, Boeing $BA will be closely watched to see if the FAA lifts the grounding order on the 737 Max.In conclusion, the strategy continues to work surpassing the three main Wall Street indices. Check it out the portfolio stats https://etoro.tw/2UHOvRc .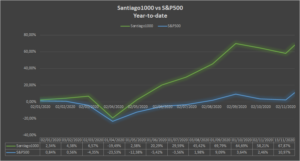 In case of any doubt, you can access the FAQ of my blog: https://santiago1000.it/en/#faq
(Seeking Alpha)  Stocks rebounded Friday as the rotation to economically sensitive industries regained momentum, despite rising COVID-19 cases that could lead to tougher economic restrictions. The S&P 500 ended at a new all-time high 3,585, with all 11 industry groups gaining. Some of the day's best performers were plays on an economic recovery, including Carnival, Boeing, United Airlines and MGM Resorts, while stay-at-home stocks such as Peloton and Zoom struggled. Sparked by Pfizer's news on Monday that a trial of its COVID vaccine was more than 90% effective, the Dow jumped 4.1% and the S&P added 2.1% for the full week, while the tech-heavy Nasdaq lost 0.6%, as investors took some profits on the momentum tech names that led the market through the summer.
Here is the detailed weekly income of the positions that make up the portfolio:
STOCKS
NIO – NIO Limited +7.04% (earnings upcoming announce 11-17-20)
FSLY – Fastly, Inc. +5.83%
GOOG – Alphabet Inc. +0.87%
AAPL – Apple Inc. +0.48%
MSFT – Microsoft Corporation -3.22%
ENPH – Enphase Energy, Inc. -4.85%
TSLA – Tesla, Inc. -4.99%
AMD – Advanced Micro Devices, Inc. -5.18%
LULU – Lululemon Athletica Inc. -5.34% (earnings upcoming announce 12-09-20)
AMZN – Amazon.com, Inc. -5.51%
FB – Facebook, Inc. -5.61%
NFLX – Netflix, Inc. -6.20%
SEDG – SolarEdge Technologies, Inc. -6.70%
PYPL – PayPal Holdings, Inc. -6.96%
NVDA – NVIDIA Corporation -8.69% (earnings upcoming announce 11-18-20)
TTD – The Trade Desk, Inc. -10.32%
SHOP – Shopify Inc. -12.12%
MELI – MercadoLibre, Inc. -12.40%
ZM – Zoom Video Communications, Inc. -19.30% (earnings upcoming announce 11-30-20)
No portfolio changes this week.
Stocks/ETFs on my radar and that interest me: RH, ADBE, VEEV, SQ and ETSY .
Vaccine breakthrough
Hopes of a return to normalcy were seen early in the week after a vaccine developed by Pfizer (NYSE:PFE) and BioNTech (NASDAQ:BNTX) appeared to be more than 90% effective in stopping COVID-19. At that level of effectiveness and administered widely, it would be enough to break chains of infection, but questions still remain, including production and distribution, how long it will protect against infection and how well it will work in the elderly. Eli Lilly's (NYSE:LLY) antibody therapy was granted an emergency-use authorization by the FDA, while Moderna (NASDAQ:MRNA) said it accumulated enough cases of COVID-19 in its vaccine trial to analyze the shot's effectiveness.
Unlike to topple Obamacare
Health insurers and hospital operators staged a modest rally on Tuesday in apparent reaction to comments from Supreme Court Justice Brett Kavanaugh and Chief Justice John Roberts surrounding the Affordable Care Act. "It's hard for you to argue that Congress intended the entire act to fall if the mandate was struck down," said Roberts, who authored 2012 and 2015 rulings that upheld Obamacare in previous Republican legal challenges. The Trump administration had argued that the individual mandate, ruled as unconstitutional by an appeals court almost a year ago, is not "severable," therefore Obamacare is unconstitutional and should be repealed.
One More Thing' event
Apple (NASDAQ:AAPL) unveiled new Mac computers that use processors developed in-house (based on ARM architecture), signaling an end to the tech giant's nearly 15-year reliance on Intel (NASDAQ:INTC) processors. That would bring personal computers in line with its approach on iPhones and iPads, which have long used Apple-designed chips. JPMorgan analyst Samik Chatterjee sees many benefits in the new SKU, like volume, pace of innovation and lower materials cost, and believes the in-house silicon presents a $15B sales opportunity.
New era of flight
Get ready for the next SpaceX (SPACE) flight to the International Space Station, which will take place tonight at 7:49 p.m. EST. While the company already completed its maiden trip to the ISS back in August, sending up astronauts Bob Behnken and Doug Hurley on a Crew Dragon capsule and Falcon 9 rocket, the latest launch comes after NASA formally authorized SpaceX for regular human spaceflight. It's not the only exciting development happening in the space. The city of Orlando, Fla., and German aviation startup Lilium have unveiled plans to build the first hub for flying cars in the U.S. Called a vertiport, the transportation hub is scheduled to be completed in 2025 and will enable passengers to bypass Florida's congested highways.
U.S. Indices
Dow +4.1% to 29,480. S&P 500 +2.2% to 3,585. Nasdaq -0.6% to 11,829. Russell 2000 +6.1% to 1,744. CBOE Volatility Index -7.1% to 23.1.
S&P 500 Sectors
Consumer Staples +3.6%. Utilities +2.8%. Financials +8.3%. Telecom +0.8%. Healthcare +1.8%. Industrials +5.3%. Information Technology -0.4%. Materials +1.4%. Energy +16.5%. Consumer Discretionary -1.1%.
Thanks for reading.
Have a good one,
Santiago