Portfolio Update – WEEK 47 (November 16th to November 22sd)
Good morning,
Hello, how are you all?
For the week, the portfolio rose +5.98%, for the year, the result is fine, +77.91% and for November +13.21%. I remain confident in technology companies especially. In the next few days, I intend to add funds to the portfolio and reinforce the main positions. Probably the week will pass quietly, but it is not a time for heroics. It is a great time to plan ahead! Check it out the portfolio stats https://etoro.tw/2UHOvRc .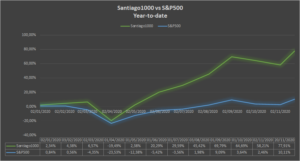 In case of any doubt, you can access the FAQ of my blog: https://santiago1000.it/en/#faq
(Seeking Alpha) Stocks ended lower on Friday on raised concerns over the economic impact of the pandemic and the Treasury Department's new curtailing of emergency economic programs. The Nasdaq ended the week up +0.2%, helped by Tesla, which soared about +20% for the week after getting tapped for the S&P 500. But that was no help to the S&P just yet. The index finished off -0.8% to snap a two-week winning streak. Oil was up +5% for the week to mark the third consecutive week of gains.
Here is the detailed weekly income of the positions that make up the portfolio:
STOCKS
TSLA – Tesla, Inc. +19.86%
SEDG – SolarEdge Technologies, Inc. +16.42%
TTD – The Trade Desk, Inc. +12.55%
ENPH – Enphase Energy, Inc. +11.15%
SQ – Square, Inc. +10.60%
NIO – NIO Limited +10.53% (earnings reported 11-17-20)
ZM – Zoom Video Communications, Inc. +8.93% (earnings upcoming announce 11-30-20)
MELI – MercadoLibre, Inc. +8.86%
SHOP – Shopify Inc. +7.65%
FSLY – Fastly, Inc. +6.81%
LULU – Lululemon Athletica Inc. +6.23% (earnings upcoming announce 12-09-20)
AMD – Advanced Micro Devices, Inc. +3.94%
PYPL – PayPal Holdings, Inc. +2.15%
NFLX – Netflix, Inc. +1.12%
AMZN – Amazon.com, Inc. -0.94%
NVDA – NVIDIA Corporation -1.57% (earnings reported 11-18-20)
AAPL – Apple Inc. -1.61%
GOOG – Alphabet Inc. -1.96%
FB – Facebook, Inc. -2.62%
MSFT – Microsoft Corporation -2.83%
I added $SQ .
Stocks/ETFs on my radar and that interest me: RH, ADBE, VEEV and ETSY .
These are the most important indicators for the NBER determination of the start and end of recessions.
Plenty of reasons for Musk to dance
Tesla (NASDAQ:TSLA) bulls took a victory lap after the EV automaker landed inclusion on the S&P 500 Index. "We believe the sustained profitability trajectory as evidenced in the September quarter was the final straw that got Musk & Co. into the S&P 500 this time around despite all the noise around tax credit boosts on the Street," wrote analyst Dan Ives, calling the development a clear positive for shares. Investors seemed to agree, with TSLA shares soaring some 25% during the week to touch $500. It's massive: Due to the size of the addition, the S&P 500 Index Committee is seeking feedback on whether Tesla should be added all at once on the rebalance effective date or in two separate tranches.
Amazon expands retail empire with pharmacy
With Americans increasingly relying on getting their medicines via mail to avoid getting exposed to COVID-19, Amazon (NASDAQ:AMZN) said it was getting into the pharmacy business. How will it work? Doctors can send prescriptions directly to Amazon Pharmacy – which has tools to verify that a physician legitimately ordered each prescription – or patients can request a transfer from existing retailers. Amazon Prime customers will get free two-day delivery, while others can get free delivery within five days or pay $5.99 to upgrade to two-day delivery. The move had been anticipated for quite a while, given the many reported internal discussions and acquisition of PillPack in 2018, but the latest news shook the stocks of CVS (NYSE:CVS), Walmart (NYSE:WMT), Rite Aid (NYSE:RAD) and Walgreens (NASDAQ:WBA).
Bitcoin takes out $18,000
"If you had told me three years ago the U.S. was going to print a trillion dollars in one month, I would have said 1,000 to 1 against," said Dan Morehead, the CEO of Pantera Capital, and an early Bitcoin (BTC-USD) investor. "It just happened… I think it's going to melt up" – meaning good times are ahead for things you can't "quantitatively ease." Bitcoin's all-time high hit in 2017 was about $20K, but oft-forgotten about the 2017 mania was how little time the crypto actually spent above $10K – literally a handful of days. The distinguishing feature of this year's move is its relative (at least until very recently) stability. Bitcoin has been above $10K since mid-summer.
U.S. Indices
Dow -0.7% to 29,263. S&P 500 -0.8% to 3,558. Nasdaq +0.2% to 11,855. Russell 2000 +2.4% to 1,786. CBOE Volatility Index +2.6% to 23.7.
S&P 500 Sectors
Consumer Staples -0.8%. Utilities -4.0%. Financials +1.4%. Telecom -0.4%. Healthcare -2.8%. Industrials +2.0%. Information Technology +0.1%. Materials +1.2%. Energy +5.5%. Consumer Discretionary +0.4%.
Brief thanks
As I consider what I am thankful for, my list starts with the health and safety of family and friends in a stressful time. I also deeply appreciate my copiers e followers, who provide the fuel for my engine. I am lucky to have work that I love and an appreciative audience. Thanks GOD.
Thanks for reading.
Have a good one,
Santiago