Portfolio Update – WEEK 48 (November 23th to November 29th)
Good morning,
Hello, how are you all?
For the week, the portfolio rose +6.01%, repeating the same growth of the last 7 days, just incredible. It was a devastating 2 weeks and putting the portfolio at its highest YTD level. For the year, the result is fine, +88.60% and for November +20.01%. I remain confident in technology companies especially. In the next few days, I intend to add funds to the portfolio and reinforce the main positions. Probably the week will pass quietly, but it is not a time for heroics. It is a great time to plan ahead! Check it out the portfolio stats https://etoro.tw/2UHOvRc .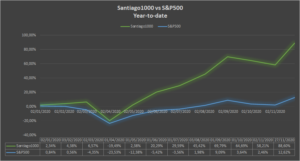 In case of any doubt, you can access the FAQ of my blog: https://santiago1000.it/en/#faq
(Seeking Alpha) The major stock market averages all closed up more than +2% for the holiday-shortened week, as an early recovery-play rally gave way to a tech-safety trade at the end. The environment for risk assets has been getting better and better as drugmakers release more positive COVID-19 vaccine data and risks on the political front ease. During the week, the Dow closed above 30,000 for the first time, rising +2.2% overall with Boeing and Goldman Sachs at the forefront, while the S&P 500 and Nasdaq both finished the week at fresh record highs. The S&P added +2.3% as techs joined energy and financials as pockets of strength, and the Nasdaq led the week with a +3% move, as megacap stocks gained some traction in the latter trading days.
Here is the detailed weekly income of the positions that make up the portfolio:
STOCKS
PLTR – Palantir Technologies Inc. +52.40%
TSLA – Tesla, Inc. +19.64%
SEDG – SolarEdge Technologies, Inc. +11.72%
PYPL – PayPal Holdings, Inc. +9.72%
NIO – NIO Limited +9.64%
ENPH – Enphase Energy, Inc. +8.47%
SQ – Square, Inc. +8.45%
ZM – Zoom Video Communications, Inc. +7.28% (earnings upcoming announce 11-30-20)
MELI – MercadoLibre, Inc. +6.81%
LULU – Lululemon Athletica Inc. +5.68% (earnings upcoming announce 12-09-20)
TTD – The Trade Desk, Inc. +5.57%
SHOP – Shopify Inc. +4.64%
AMZN – Amazon.com, Inc. +3.10%
FB – Facebook, Inc. +3.01%
AMD – Advanced Micro Devices, Inc. +3.01%
GOOG – Alphabet Inc. +2.93%
MSFT – Microsoft Corporation +2.30%
FSLY – Fastly, Inc. +1.57%
NVDA – NVIDIA Corporation +1.33%
NFLX – Netflix, Inc. +0.64%
AAPL – Apple Inc. -0.64%
I added $PLTR .
Stocks/ETFs on my radar and that interest me: RH, ADBE, VEEV and ETSY .
Meteoric rally
A new milestone for Tesla (NASDAQ:TSLA) this week saw the EV maker cross the half a trillion market cap level. For those that like tracking these things, that is more than Toyota ($197B), General Motors ($64B), Ford ($35B), Nissan ($77B) and Honda ($49B) combined. How do bulls make the math work? Wedbush Securities recently upped its bull case price target to $560. "While Model 3's remain the core driver, going forward new designs around Cybertruck and Model Y will further aid growth globally and thus enable to Tesla to achieve its million delivery units likely by 2023 (2022 not out of the question) in our opinion," noted analyst Dan Ives. For the bear view, Montana Skeptic said "hype and nonsense" have elevated Tesla's share price beyond all reason.
Black Friday in full swing
The biggest shopping weekend of the year is here, with bargain hunters across the U.S. planning to search out the best discounts in stores and online despite the coronavirus pandemic. With rising wages and increasing consumer confidence, U.S. holiday sales are expected to grow between 3.6% and 5.2%, compared with the 4% growth last year, while online sales are seen rising 20% to 30%, according to the National Retail Federation. From a market perspective, history suggests this is a very good time for retail stocks. Since 2007, the week before Black Friday to a week after, the sector usually gains about 5%.
U.S. Indices
Dow +2.2% to 29,910. S&P 500 +2.3% to 3,638. Nasdaq +3.% to 12,206. Russell 2000 +3.9% to 1,855. CBOE Volatility Index -12.1% to 20.84.
S&P 500 Sectors
Consumer Staples +0.6%. Utilities +0.2%. Financials +4.6%. Telecom +2.7%. Healthcare +0.5%. Industrials +2.4%. Information Technology +2.1%. Materials +2.7%. Energy +8.5%. Consumer Discretionary +3.%.
Thanks for reading.
Have a good one,
Santiago